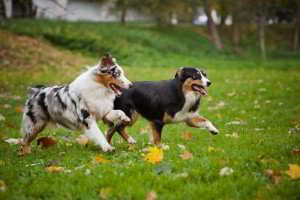 Here are 10 questions to ask potential doggie daycares.
1. Can you get a tour? Any reputable doggie daycare will allow you to tour the facility. This allows you to look at the cleanliness and get an overall sense of the atmosphere, whether the dogs are having a good time or whether there's tension.
2. Is there a temperament test, and what does it entail?
3. What are the health requirements? Which vaccinations does my dog need in order to enroll?
4. What is the cost? Are there any discount packages available?
5. What is the ratio of staff to dogs?
6. What training and qualifications does the staff have? This would include things like animal CPR or animal behavioral degrees or certifications.
7. How are dogs separated? Is it by size, temperament, or activity level?
8. What is the schedule like? How much time do the dogs play, and how long are they kept in kennels? How much time is spent indoors versus outdoors?
9. Is there a webcam where I can view my dog at play throughout the day?
10. What other services does the daycare offer? Is there grooming or training available?
All doggie daycares are not created equal, so be sure to do your homework before deciding which one is right for your four-legged best friend.