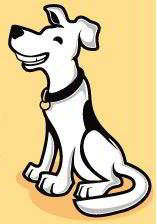 Did you know that dogs need dental care too? Just like humans dogs need to have their teeth brushed and maintained. Many things like gum disease and bad breath can be prevented with proper brushing. Unfortunately, dental hygiene for dogs is sometimes overlooked. Many people seem to just expect dogs to have bad breath, and few people brush their dogs' teeth frequently enough. Dental hygiene is just as important to your dog's overall health as things like his diet, proper exercise and routine grooming. Help keep your dog healthy – pay attention to those pearly whites!

Because we know dental health is important to a dogs overall well being we are offering Tooth Brush Tuesdays in the month of June.
Schedule a grooming appointment on any Tuesday in June and receive a complimentary teeth brushing for your dog as part of their grooming spa treatment (along with written instructions on how to do it yourself and their own tooth brush). Please call us at 206.325.3525 to schedule an appointment.