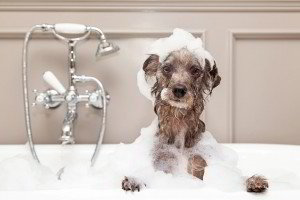 Here are 6 tips to make it a safe and fun experience.
1. If the only time your pooch is in the bathroom is when it's time for a bath, she may associate the room as a scary place. When playing indoor fetch with your pup, throw a toy in the bathroom, or do some training in there. This can help your pet think of the bathroom as a place where fun things happen.
2. Use bathmats on the floor to make walking on linoleum more comfortable for your pooch. Try a gripper mat in the tub to prevent him from slipping.
3. Use a gentle shampoo specifically made for dogs so that it does not irritate their skin. Also, avoid getting shampoo in Fido's ears as this could lead to an infection.
4. Never schedule bath time when you're in a rush. Taking your time will keep both you and your pup relaxed.
5. If your dog exhibits symptoms of anxiety, be mindful of your tone. Cooing that "it's okay" can sound like whining to a canine's ears. Dogs respond better to a happy, singsong voice.
6. Seek out dog grooming in Seattle if the experience continues to be stressful for your dog. Professional dog groomers know the tricks of the trade to keep your pup safe and comfortable.
Bath time needn't be a scary venture for you and your pup. With practice and patience, you can learn to enjoy the experience together. Otherwise, seek out a professional who has the know-how to make the experience as enjoyable as possible for your furry friend.