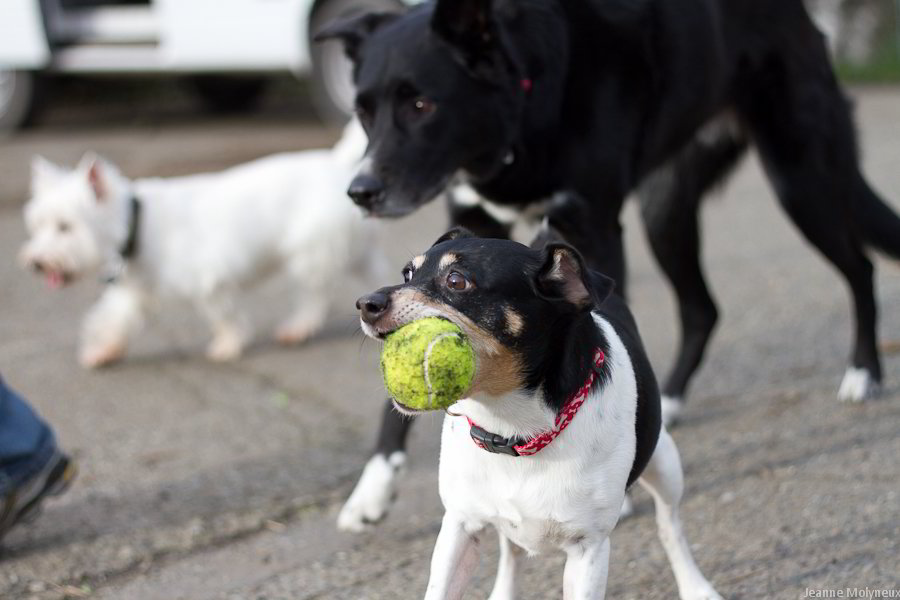 However, socialization is a process that should never stop! It will determine what kind of personality your dog is going to have, and how friendly they will be around people and other animals. If your dog isn't exposed to new places, people, weather, objects, sounds, etc. they can develop a fear of anything new.
Taking your dog on walks on a leash is a good place to start in socializing them. Places like puppy classes, dog parks, dog daycare, and stores that allow pets can be good places for supervised interaction and socialization. Just the act of your dog being in public will help build their social skills! An under socialized dog can be timid, fearful, and even aggressive at times.
To be clear, your dog is born knowing how to be a dog. Constant socialization with other dogs as they grow up is necessary to reinforce their learning about the language of dogs – how to listen, how to interpret another dog's mood, and how to control their actions. Here are few other reasons why dog socialization is so important:
It reduces fear and anxiety. For a puppy, the entire world is new to them. But, as your dog grows older and isn't exposed to various situations, new experiences can be frightening. If you socialize your dog he'll learn to enjoy new experiences and will be able to handle them appropriately.
It will make your life easier as a dog owner. Long car rides or traveling with your dog can be really stressful if your dog isn't socialized. But, if you start traveling with your dog at a young age you'll find it much easier to take him on long trips.
It will reduce aggression. Some breeds are simply less aggressive than others, but socialization plays a key role in determining how your dog will interact with other dogs they're unfamiliar with. It's important to introduce your puppy to other dogs so they can form positive relationships and positive memories of those interactions.
You'll have the greatest canine companion imaginable if you start socializing them at a young age! Remember, good health includes early socialization. If you have any questions, you can always give us a call or come in and speak to one of our trained professionals!