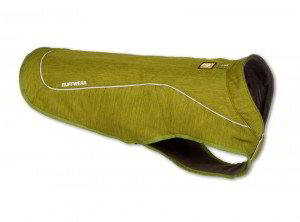 Designed to be warm and durable this coat is wind and water-resistant. The recycled fleece insulating layer is enclosed in a durable recycled polyester shell, keeping body heat in, and the elements out. Auto-lock buckles on each side provide easy on/off.

The Pros: Overall the coat is snazzy looking, easy to get on and off, fits well, and indeed provides all of the cold weather protection benefits as promised. It has reflective tubing in the seams and I really like that there is one solid piece that protects the dog's chest. It is eco-friendly and machine washable as well.
The Cons: Not much color choice (only two colors) and no little button-hole for a harness attachment if you are into that. Since the coat slips over the dogs head, there is sort of a one-size-fits-most factor for the neck hole, which meant I had to opt for the slightly looser fit to accommodate for my dogs's beefy head. Otherwise, the coats are little pricey, setting you back $65.00 (which in my opinion was well worth it).
In summary, I give it 5/5 stars. My dogs and I have enjoyed it.