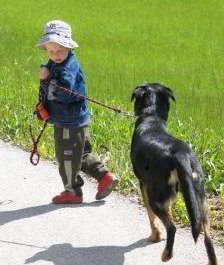 1) Train everywhere – every room in your house, on your daily walk, in the car, at the park, everywhere! The most challenging things happen outside of your living room so why only train there?
2) Use your environment – Big scary bearded sunglass wearing guy at the park? Great! Ask him to give your dog a cookie. Dog barking at balloons outside the local pet store? Ask for brief sit and then let your dog blow off some steam by running around like a goofball. You get the idea.
3) Put down the cookies – Training with treats is a wonderful way to get quick reliable responses and a happy dog… but having to show your dog what you have in order to get a response is bad training. Instead, ask for a behavior with empty hands, then when you get it, whip out a cookie. Your dog will think you can make awesomeness appear out of thin air.
You're off to a great start!
If you would like to know more, enroll in my Basic Obedience/Canine Good Citizen class (aka. Polite Dog 101). It is 6 consecutive Tuesdays at 7:30pm from 8/23 through 9/20. The cost is $130 which includes Canine Good Citizen certification.
You can e-mail me at info@central-bark.com or call 206.325.3525 to sign up or learn more.