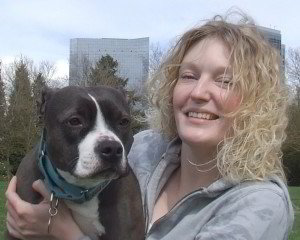 A little about me: I have been working with dog and human clients in shelters, daycares, homes, training classes, and participating in dog sports for 8 years now. I am an insatiable sponge for all things dog. I also own and train for my company Dynamic Dog Works LLP. I developed my training method using the simple and effective dog-friendly training techiniques that I saw work wonders for sport and working dog trainers and applied them to meet the needs of the highly sociable modern dog.
Why I work at Central Bark: Our clients are hard-core dog lovers! Also, our philosophies are the same. A good daycare and boarding facility is more than just a place for dogs to burn off energy, it is a place for dogs to learn and be mentally stimulated as well. Daycare should provide all sorts of enrichment and dogs should come home not just physically tired, but having learned and practiced the skills they need to be better companions overall. I can honestly say that Central Bark lives up to that standard.
I would love to meet all of you and share some of my tride and true tips for getting the most out of whatever you do or would like to do with your dog (even if that isn't much).
Complimentary Meet-the-Trainer Workshop
Learn simple solutions for life obedience in the real world.
August 13th 10-11am
There is limited availability. To sign up call 206.325.3525 or e-mail me at
info@central-bark.com. Thanks!