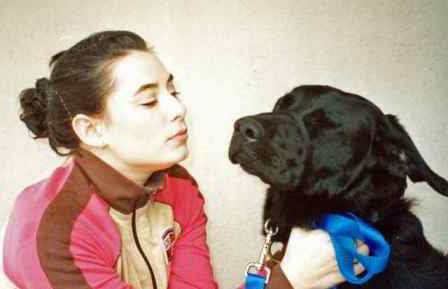 A Note From Erin-

Erin Venables and Service Dog Casey
I can't imagine my life without dogs. They make me laugh and cry—and not just for the numerous shoe casualties! What I love about dogs is that every day is a new day— a new day to learn and experience everything, that's just amazing to me. It makes me wish that I woke up with the same attitude as my lab, Indi, although that means I would greet people by wiggling my butt and searching them for treats!
As far as my dog training background goes, I started out showing dogs in 4-H and raising service dogs for the disabled. Since then, I have been teaching obedience and behavior to educate owners and help dogs get back to just being a dog. I am a strong believer that every dog is different and not every type of training, tools, or techniques will work for every dog, but there is always a way to work on improving and enriching their lives with positive training methods.
Some of my favorite things:
Homemade dog treats, natural foods, and spicing up dog food with broccoli and carrots.
Gentle Leader, Easy Walker, Halti, Martingale, and more.
Anything written by Patricia B. McConnell, Jean Donaldson, and Ian Dunbar.
A dog's mind and how they use it. Thinking toys- Nina Ottosson toys, Buster Cube, Treat Stick, etc.
My life would not be complete without the Furminator, Dyson Animal, and Mr. Clean Magic Erasers (We have a Mastiff and it does wonders to take dog drool off the walls)! Central bark and of course my dogs!
I have four wonderful dogs: Indi- Lab, Truman- Great Dane, , Brinks- Dane/Mastiff mix, and Oliver- American Pit Bull Terrier. I have rescued and rehabilitated many dogs, including two of my own, foster dogs, and long time clients. My passion is helping owners create a strong bond with their pets, learning what makes them tick, and how to harness that into training.
So, that is a little about me, I can't wait to hear more about you and get to know all of your canine counterparts!