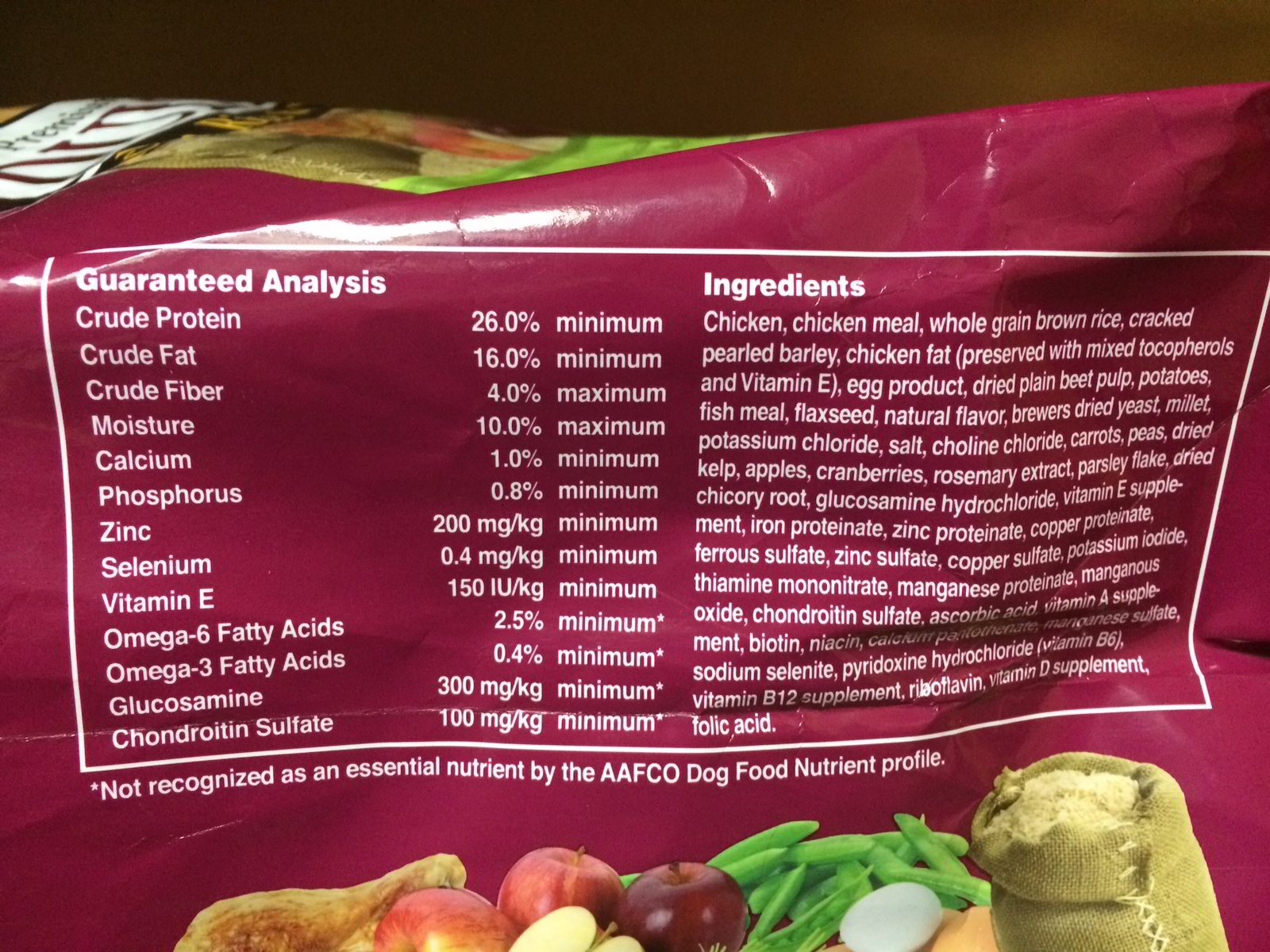 (Label pictured is for Kirkland adult dog food.)
Let's start with looking at the first ingredient. The first ingredient should ideally be the main protein that you intend to feed (such as chicken, lamb or white fish). I like mine to be whole chicken….no chicken meal or chicken byproduct. But I will offer a word of caution, most dogs that are allergic to a protein source it will be chicken. I'm just lucky and my three dogs all do just fine on a chicken based food.
Next I look at the grains used in any perspective food. I avoid soy, corn and wheat. These are the top three dog food allergens. I am usually looking for things like brown rice, millet, barley or quinoa. These are higher quality grains with more fiber. Always avoid all foods that contain sugar or salt! There is no reasons to have these non-nutrient ingredients in you pups food.
Lastly I'm looking for things flaxseed for good omegas and fruits and veggies for taste and natural nutrients.
If you find a food with these basic components you will likely have found a good quality kibble for your best friend. Also I like to think you should be able to find food with quality ingredients and a agreeable price.
If you are looking for a limited ingredient or customized food there are more choices out there now than there has ever been! I was pleasantly surprised by some of these foods that can be made to order based on your dogs breeding, age, weigh and exercise levels! Here are a couple fun sites that have interesting concepts. I can't vouch for their products as that I have not tried either of these but I love the idea.
http://www.chefk9.com/gourmet-dog-food.html
and
http://petbrosia.com/
Happy chomping!