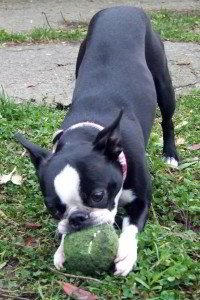 Environmental
Seasonal allergies: Just like human seasonal allergies, dogs are vulnerable to seasonal pollen allergies. These allergies usually present a bit differently in our four-legged friend than with us though.
Other allergens: This category is vague because almost anything can be an allergen; it can vary from your dog being allergic to specific plants, mold, dander, prescription drugs, dust mites, etc. There is such a wide variety of allergens that if your pet is experiencing allergy symptoms is it beneficial to discuss it with your veterinarian.
Food
Grain based
Protein
Food based allergies are very common in dogs but sometimes hard to pin down to exactly what ingredient is causing the allergy symptom. There are multiple low-ingredient dog food brands on the market that allow you to try different protein and grain sources. Testing different ingredients of dog food is a long process since results can take weeks or months to present themselves but it's worth it in the long run for a healthy pup!
Insect Bites
Bee stings
Flea bites
Spider and other insect bites
These allergies can come out of the blue and you probably won't know until your pup experiences bites or stings and see the allergic reaction. The severity of the allergic reaction can vary just like it does in humans from mild to severe.
Common Allergy Symptoms:
Increased itching
Sneezing
Increased licking
Inflammation/Swelling
Increased licking of paws/swollen paws
Itchy, watery eyes
Runny nose
Skin rashes (Red, itchy or scabed patches of skin)
Solutions?
Many mild allergies can be treated with some benadryl or hydrocortisone cream but severe allergies may require more intense treatments. Of course food or drug allergies once diagnosed can easily be fixed with avoiding the allergy causing ingredient in your dog's diet. If your dog is presenting with symptoms of allergies, it is best to discuss this with your vet; treatments vary greatly depending on the severity of your dog's allergies and the type of allergy.
We want to hear from you! Do you have a dog that has an allergy? How'd you narrow down your dog's allergy? Do you have a non-traditional method for keeping your dog's allergy under control?
http://www.drsfostersmith.com/pic/article.cfm?siteid=12&acatid=169&aid=75