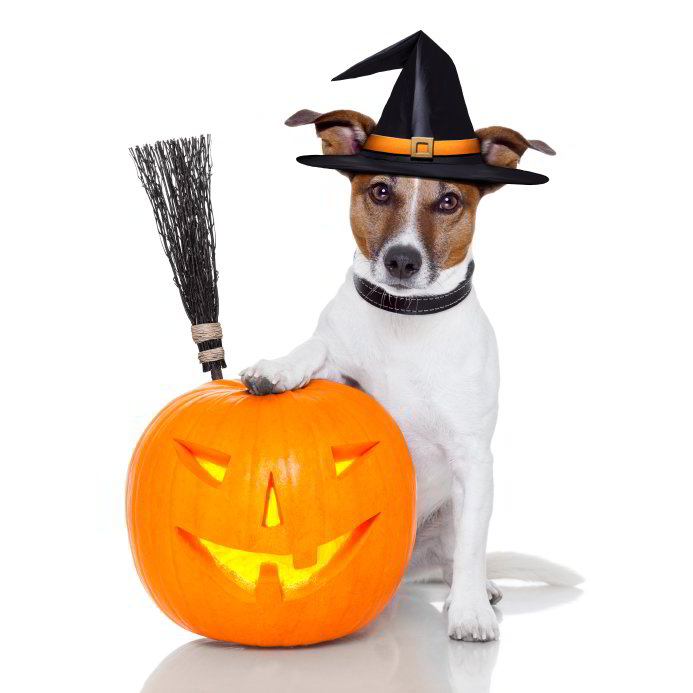 Trick-or-treat candy is not for pets. All forms of chocolate are extremely dangerous to our pet's health, and can even be lethal. Any Halloween candy with chocolate and artificial sweeteners should be kept in a safe place where your pets cannot reach it.

Be careful with pet costumes. If you choose to dress up your pets, it's best to go for a simple approach. Try to avoid elaborate, tight-fitting costumes with strings, ties, or belts as pets can become tangled in it and can have difficulty walking.
Halloween decorations can be dangerous. If you like to decorate your home in the Halloween spirit, take into consideration what you will be displaying and where those decorations will be placed. Easy to reach decorations can easily be knocked over or can potentially lead to choking hazards, so be mindful on where you choose to put your decorations.
Take the Right Precautions: If your pet tends to get skittish around large groups of people, you're going to want to do some stress control beforehand. Make sure they have access to a comfortable, quiet place inside if they want to retreat away from the commotion. Inform your guests ahead of time that you have pets, and let them know if your pets are not so keen on lots of attention and cuddling.
If you have any additional questions about pet safety during Halloween, please give us a call and we'd be happy to help!