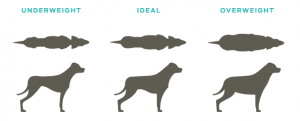 So with this bit of information the question is what can I give my buddy to eat that's both delicious and healthy? Well, I'm so glad you asked! There are lots of great options of healthy delicious snacks for your pups! Some of them are so simple, inexpensive and likely already in your kitchen you'll be shocked! Things like apples, carrots, lean cooked meat, plain yogurt, cooked sweet potatoes, bananas, cooked green beans, peanut butter (in limited amounts) and scrambled eggs. Here are a few more fun options; pineapple, Popcorn, oatmeal, peas, rice and pumpkin! Just make sure there isn't any added sugar or salt. So with all these great options why buy expensive store bought junk food? I love giving my dogs a apple slice with a dab of peanut butter on it (also one of my favorite treats) as a treat for good behavior. This brings up a good point, one of the best things you can do for training a happy dog is make him or her work for you. What kind of work? How about a nice sit, stay or down? Dogs like to be praised and get treats, you like a well behaved dog, let's call it a win win! :)
Here are some fun recipes;
Yummy Oat, apple, peanut butter treats
2 mashed bananas
2 cups rolled oats
1 cup of unsweetened apple sauce
1/2 cup of natural peanut butter
In a large bowl mash up two bananas with a fork until smooth, mix in the other ingredients. Mix until oats are moist and everything look consistent.
Pre heat oven to 350 degrees.
Put one large spoon of the mix in your hand and roll it like a meatball. Put them on a lightly oiled pan (pan or olive oil work well). Put them in rows with about 2 inches between them. Cook them for about 10 minutes or until they look slightly brown on top. Let them cool then treat that good dog!
Cool apple sauce, yogurt treats
2 cups of unsweetened apple sauce
1/2 cup of low fat PLAIN yogurt
1 chopped apple (whatever you have)
Put into a 1/2 cup single serve dish/bowl/cup and chill in the fridge until you're ready to serve. Let your dog enjoy this yummy fun to lick treat.
Happy snacking!