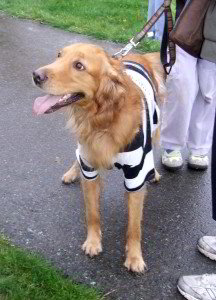 Have someone else man the door while you work with your dog. This way you can move further away from the door if Fluffy is getting too excited.
Leash your furry friend to prevent escapes and to keep away from those overly generous chocolate-wielding trick-or-treaters.
Bring dog candy; soft, smelly, meaty treats that is. Reward those social butterflies for remaining
calm as kids arrive. For shy dogs, reward for bravely approaching those strange costumed creatures. For barkers, reward those quiet moments.
Create a training station using a cushy blanket or dog bed. It will give your dog a focal point for stationary positions like sit and stay, which can be tricky when there are distractions.
And remember, don't force any encounters between Fido and those kids. If at any point your dog seems stressed or is refusing treats, it's time to give them a break. Training should be fun and safe for everyone. Consider boarding if you're concerned about your dog's stress level.