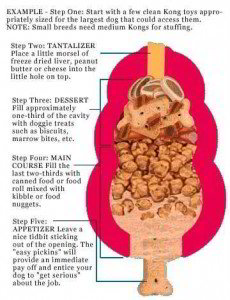 Turkey Dinner – for beginning to intermediate chewers
2 parts Fromm's Grain-Free Beef Frittata Veg (dry)
1 part Nature's Variety Homestyle turkey and duck stew (canned).
1-3 pieces of Fruitables pumpkin and cranberry treat.
Mix the dry and canned dog food to form a tasty chunky paste.
Place 1-3 pumpkin and cranberry dog treats at the bottom of the Kong. Fill the remainder of the Kong with the wet/dry dog food mash. Feed at room temperature or freeze for advanced chewers.
Aunt Jeannie's Archaeology Kong – for advanced chewers
LAYER ONE (deepest): roasted, unsalted cashews · freeze dried liver bits
LAYER TWO: dog kibble, cookies or liver biscotti · Cheerios · sugar-free, salt-free peanut butter · dried banana chips, apples and apricots
LAYER THREE: carrot sticks · turkey or leftover ravioli or tortellini
LIGHT VERSION: substitute crumbled rice cakes for cashews, Caesar croutons for freeze-dried liver, fat free cream cheese for peanut butter
Mix and match or substitute! Just remember to supervise your dog with new chew toys and feed multiple dogs separately to avoid conflicts due to Kong envy.
Happy Holidays!