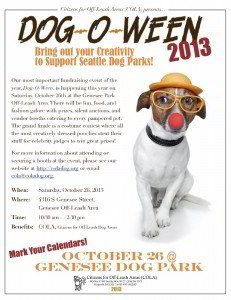 Come on down for a fun day of dogs in costume, pet related booths, prizes and drawings! Genesee dog park is located at 4316 S. Genesee St. http://www.seattle.gov/parks/offleash_detail.asp?id=409
Central Bark will be handing out fun items for dogs and their friends.
I will be snapping photo's and posting them on our facebook page so be sure to look their in the days to come! https://www.facebook.com/CentralBarkWA
Hope to see you all there!