Costumes:

The best part of Halloween is dressing up in whatever costume you choose! We may enjoy dressing up but our four-legged friends may not. If you are dressing your dog up and they are not used to wearing outfits try and make it as an enjoyable experience as possible; make sure the costume doesn't restrict movement, breathing or barking and remove the costume if they are showing sign of abnormal behavior or stress. Start trying on the costume days before Halloween, only having the costume on for 5-10 minutes at a time and praise them for cooperating with treats and lots of pets. Build the time up over a course of a week and your pet will be much more inclined to keep their costume on if they know it's not a scary experience.
Trick or treaters:
Some dogs are protective of their home and their family; making trick or treaters coming to the front door a stressful experience. If your pup isn't comfortable with strangers regularly coming to the front door, have them rest in a crate or room away from the busy commotion. Add their favorite toy or treat (as long as they don't need to be supervised while enjoying it) and put on some classical music or television to help them relax.
A great option for keeping their minds preoccupied would be a Kong filled with peanut butter or their favorite wet dog food.
Candy:
Don't forget chocolate is poisonous to dogs so Halloween candy needs to be put out of reach. Chocolate contains components that humans can quickly breakdown but dogs break these components down much slower which can result in a built up to a toxic level. Although non-chocolate candy may not be poisonous to dogs, the high sugar content isn't good for them to digest. Best to get your dog their own dog-friendly Halloween treat like pumpkin dog treats.
Pranksters:
With all the fun of Halloween comes the pranksters too; most of the pranks are harmless but keep an eye out for dangerous ones. Keep your dog (and all pets) inside the night of Halloween. For outdoor pets, bring them in a couple days prior to Halloween and a couple days following just to be safe. Check your yard the morning after Halloween for anything out of the ordinary that could be dangerous to your pet.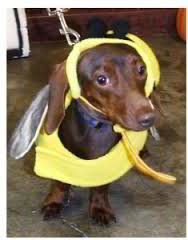 Decorations:
Pumpkins and corn stalks are fun Halloween decorations but can be harmful for pets if ingested in large quantities leading to blockages. When decorating keep in mind of the height of your pet; tails can easily knock things over and paws can trip over electrical cords. Always keep open flames away from being knocked over, hide exposed electrical cords and monitor your pet closely when they are around decorations.