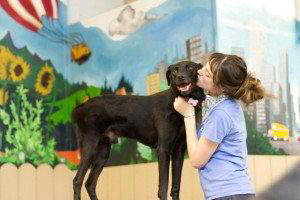 Knowledgeable Caregivers
While it may be more convenient to ask a family member to take care of your pup while you're away, it may not be right for your dog. Some dogs are too rowdy for elderly family members, while others may require special medications or other specialized care. Even most private dog sitters don't have the knowledge and experience to deal with a dog with special needs. Dog kennels are staffed with people who have years of experience working with dogs with many different needs, and they're trained to deal with a variety of behavioral and medical conditions.
In the event your pup falls ill while you're away, your kennel staff is also well equipped to notice the problem and monitor the situation or bring them to a vet if needed. To find the best dog kennel in Seattle, look for one with vet techs, certified dog trainers, or other professionals with dog health and behavior experience. All staff members should also be certified in basic dog CPR and first aid.
Affordable Prices
Some people hire private dog sitters when they leave town, but this choice is usually much more expensive than boarding your dog at a kennel. In addition, the sitter may only visit 2 or 3 times a day to let your dogs out and feed them. At a kennel, your dog will have more time to socialize with staff members and other dogs. Ask about doggie day care prices in Seattle when scheduling your boarding appointment. Many kennels include day care in their boarding prices or offer them at a discounted rate.
Physical and Mental Exercise
Dogs who are left alone for long periods of time often become bored and depressed. This can lead to problems such as illness, destructive behaviors, barking, and soiling the house. Kennels offer your dog the opportunity to play with other dogs and socialize with the staff, keeping his body and mind busy all day long. To find the best dog day care in Seattle, look for a well-maintained facility that constantly supervises all doggie play groups.
One-on-One Attention
Many people choose to board their dogs even when they're still in town. Doggie boarding in Seattle is a great option if you're throwing a party where your dog will get in the way or be afraid of all the new people in the house. Instead, he can enjoy play time and plenty of loving attention with his friends at the kennel.
Dog boarding is also a great way to get your dog one-on-one training or grooming that you might not be able to do yourself. Ask your kennel what other services they can offer your pup!